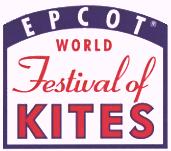 OTHER BOOTHS/FLYERS
The organizers really did a bang-up job of bringing famous kiters to the park. There were booths scattered around with presentations on all sorts of subjects. Folks like Randy Tom, who was there demonstrating his technique and Wayne Hoskings, giving talks on how kites work. Peter Lynn and Phillip McConnachie were up from New Zealand with a number of their big toys, including the new megabite. Ann Rock gave presentations on kite aerial photography, and Meg Albers had a lecture on the history of kiting. Ken Conrad had a display of Chinese kites. Mikio Toki was painting traditional Japanese kites. David Gomberg, ran an AKA booth, staffed by a number of people, including Judy Winkler. A number of folks from Kitty Hawk Kites were running two stalls where they sold all sorts of kites. Charlie Sotich gave presentations on making miniature kites. I was there when a school teacher spoke to him, excitedly fascinated. She had been planning to have her students make kites, and it had never occurred to her to make miniature kites which they could fly in the class room!
| | |
| --- | --- |
| | Kel Krosschell was along with his "world's smallest kite," measuring a mere 1/16". ( 42K ) |
| | A traditional Chinese dragon kite (provided by Ken Conrad, I believe) beautifully displayed near Spaceship Earth at the Epcot entrance. ( 111K ) |
Generally speaking, all facets of modern kiting were represented in one way or another, complete with experts to offer explanations.
There were also two booths where guests (primarily children, though I saw some adults with them too) could make their own little kites out of pre-cut paper forms and a couple of dowels and stickers to hold it together. A small area was fenced off backstage behind Morocco where kids could run around with their kites. It's my understanding that this is the first time that guests were allowed backstage like this!


[ Back ] [ Return to Kites ]
copyright © 1995, all rights reserved
This document generated by SpHyDir, another fine product of PC Lube and Tune.