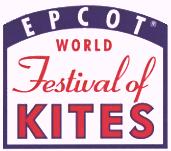 THE MEGABITE
Peter Lynn, master of monster kites, has outdone himself. A year or so ago, he came up with another of his soft forms, the trilobite. Like his other soft monsters, the trilobite is not really a parafoil -- it doesn't use an airfoil profile to form a wing. Unlike his other soft kites, the trilobite was the first not to use fabric to connect the top and bottom skins of the kite; it uses pieces of line to hold its shape, resulting in a kite that's cheaper, lighter, and no less capable. The normal trilobites have been built in sizes up to about 100 feet.
David Brittain flies a Rev II inside the Megabite ( 39K )

The megabite flies ( 72K )

The Buggy Meister and zookeeper for big toys, Peter Lynn ( 52K )

Again, the monster in the air ( 38K )


The Megabite gets help inflating ( 68K )

A lurking monster (41K)

Side of kite with a steering line and flyer ( 74K )
For about 15 years, the record for the World's Largest Kite has been held by a Dutch team, which has a giant parafoil. It's never flown all that well, requires three lines, and a huge team of people get it airborne.
Peter decided to smash that record with a bigger kite that would be easier to fly. He took the basic trilobite form and expanded it to a massive size. The resulting kite is 165 feet long, maybe 72.5 feet wide, and, oh, 30 feet or so tall. It's bridled very high so that it has very little pull, and is flown off a single line, though there are two steering lines attached to help control it in unstable winds.
To make it easier to deal with the 20,000 yards of fabric that make up the kite, the beast is built out of zippered sections. This way, it breaks down into a number of bags for easy transport and/or repair. A couple of times, I saw chunks of the kite in the festival headquarters having patches sewn on.
From the outside, the megabite really doesn't look all that huge. To really get a feel for its magnitude, one has to go inside. Yeah, inside the kite. In fact, most of the folks on the sidewalk team actually got to fly kites inside the megabite! I wasn't quite so lucky, but I did get to walk around inside it for a bit. It's like being in a hot stained glass cathedral. Once the kite is inflated, it tends to stay inflated very well from the heat coming off the parking lot where it was being flown.
The kite's not nearly as pretty as the smaller trilobites, which are made of hundreds, if not thousands, of small rectangles of 1/2oz icarex, sewn together in a beautiful patchwork. Still, it's a tremendous piece, one which will surely be popular at festivals for years to come.
The kite took approximately 350 hours to build. I'm not sure how many folks worked on it in that time, or if it was 350-man-hours. I do know that I've seen relatively tiny (in the 8-10' range) single line kites that have taken the builder more than 350 hours, particularly for complex applique and/or quilt work!
---
(megabite photos provided by Kel Krosschell, scans by Jeff Burka)

[ Back ] [ Return to Kites ]
copyright © 1995, all rights reserved
This document generated by SpHyDir, another fine product of PC Lube and Tune.